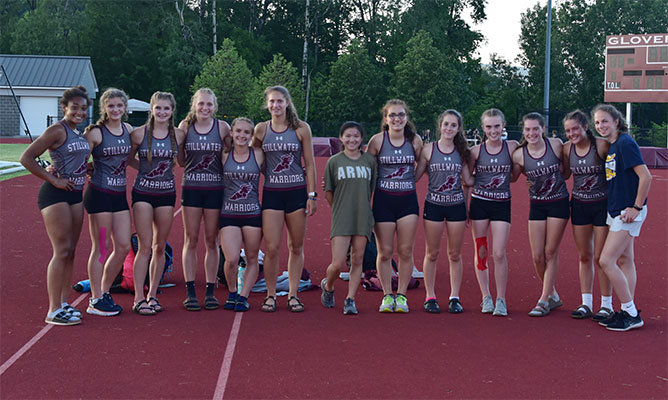 A report from Coach Shawn McClements:
Girls varsity outdoor track & field team wins the Sectional Championship for the first time in school history
After two nights of contests at Gloversville High School, the Stillwater Girls accomplished something that has been eluding them for decades. . . a Sectional Championship!
It started with field events on Tuesday, June 8th. Of the six field events, the Lady Warriors took the top honors in five of them. Bella Estill won the Sectional High Jump. Senior captain Sydney Frank captured both the shot put and the discus titles.
Junior captain Gianna Locci commanded the horizontal pits, winning both the long and triple jump. Gianna's mark in the long jump was 19 feet 10.5 inches, an effort that ties the Section Two All-Time Best last set in 2014 by Nastasja Johnston of Columbia. Her leap also places her squarely in the #1 spot in NYS rankings.
As if that were not enough, Kara Moran easily claimed second in the same events, putting serious points on the board for the Warriors. Senior captain Jayna Patrick placed third in the pole vault to close the first day of events with 74 points for Stillwater, 20 points more than their nearest rival, Greenwich.
But there was a question whether that lead would sustain them to victory. Head Coach Shawn McClements was hoping for a 22 point margin going into the running events where Greenwich had many strong threats to score.
The track events were conducted the following night in Gloversville under steamy, hot conditions. Stillwater did not contest the first two track events (the 4 x 800 meter relay and the 100 meter hurdles) and the margin between Stillwater and Greenwich shrank to 6 points.
From there, it was all Stillwater. Gianna Locci and Izzy Mack (grade 8) took first and fourth respectively in the 100 meter. Jacey Locci took fourth in a very competitive 1500 meter race, running a personal record 5:15 in the process. The girls 4 x 100 meter relay squad of Skyler Rich, Kara Moran, Bella Estill, and Jayna Patrick upset top-seed Mechanicville and leveled the field with a season best 53.00. Bella came right back in the next event, the 400 meter run, to win with another season best time (1:02.39)! Next came the 400 meter hurdles where Sydney Frank narrowly took third (expanding her point contribution to the team to 27 points!). In the 800 meter run, Jacey Locci returned to the track to take third as well.
And then came the 200 meter dash. Stillwater's Gianna Locci and Kara Moran were seeded first and fifth respectively, but this was a race the team talked about in their team meeting on Monday. Coach McClements was adamant that he had the two best 200 meter sprinters in the Section and expected them to go out and prove it. Coach McClements went up to Kara prior to the race and said two words – "ACTION JACKSON!" It's a term that defies easy translation but essentially it means "Go out there and explode! Leave nothing in your wake!" She laughed, but in the end did just that – Gianna ran a school record 25.20 and Kara secured second place honors with a personal best of 27.55 .
With only two events to go the Sectional title was already secured, but Stillwater had one last thing to prove. The 4 x 400 meter relay team of Skyler Rich, Jacey Locci, Izzy Mack, and Bella Estill ran a come- from-behind, gutsy race to lock in second. When the smoke cleared Stillwater had a total of 150 points, 24 points ahead of runners-up Greenwich.
The success of this team stems from its perfect fusion of intensity, talent, and fun. Assistant coaches Matt Hogan and Shawn Mayo were integral to fostering a team mindset focused on enjoying the process and helping each other. The team family dynamic was palpable and, ultimately, invincible. Great job to this incredible crew of Lady Warriors – you represent the greatness that IS Stillwater!
Wednesday, June 9, 2021
Stillwater Athletic Director Mike Kinney reports:
It was a great day for Warrior athletics!
The Varsity Baseball team knocked off #1 seed Fort Plain in the Class C Sectional Tournament for their second win in two days. The Warriors are waiting for the winner of today's game between Lake George and Hadley-Luzerne for their next opponent.
The Girls Varsity Softball team defeated Mayfield 5-4 for their first sectional win in a long time. They wait for the winner of today's game between Hoosic Valley and Whitehall for their next opponent.
The Boys Varsity Lacrosse team, playing their first season of Varsity Lacrosse, recorded their first sectional win in school history by defeating Greenwich 9 to 6. They play next on Friday night at 7 p.m. at Johnstown.
Track and Field: Boys: Isaac Cutler-Mujjumbire won the Section 2 Group 4 long jump, triple, and high jump (while also placing second in the shot put). In the course of about an hour Isaac smashed two school records, catapulting to #2 in the NYS in both the long jump (21-6.75) and the triple jump (43-2.5). Also worthy of note, ninth grader Brayden Belden placed third in the Sectional Pentathlon.
Girls: Bella Estill won the high jump. Sydney Frank swept the Sectional Throwing events (shot put and discus). Jayna Patrick took third in the pole vault. The excitement of the evening, however, was at the long and triple jumps where Gianna Locci and Kara Moran took the top two honors in both events. Gianna Locci improved on her own school record in the long jump and tied the Section 2 All-Time Best in the long jump (last set in 2014 by Nastasja Johnston of Columbia). Her leap of 19 feet 10.5 inches also places her squarely in the #1 spot in NYS rankings.
Sectionals continue tonight, June 9, for the girls with track events. They enter with a 20 point edge on Greenwich. Boys finish up Thursday and currently sit in second place to Fonda.
Congratulations to all the teams and good luck in their next games and events!