Throughout the year, the Eye on Stillwater series highlights those who help our students reach their full potential. It is a chance for the Stillwater community to get to know our teachers, administrators, and staff on a more personal level.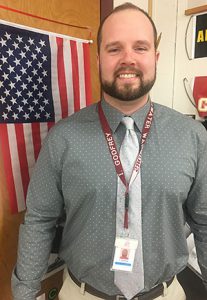 Mr. Ian Godfrey  grew up in Fort Edward and currently lives in Stillwater. He earned a bachelor's degree from St. John Fisher College and a master's degree from SUNY Plattsburgh. His first job out of college was right here at Stillwater, where he was hired when he was 22 years old.
Mr. Godfrey is currently in his tenth year of teaching seventh grade social studies. He is also the head varsity football coach, as well as the varsity assistant indoor and outdoor track coach.
Learn More
1. What do you like most about working in the Stillwater Central District?
The incredible relationships I have made over the past decade with our wonderful staff, faculty, and of course, the students.
2. What do you like best about teaching?
I love that at the end of the day, I have a feeling of accomplishment and self-worth. Teachers make a difference. I look forward to coming to school everyday and it is true — you don't work a day in your life if you love what you do!
3. What is your favorite event that happens at Stillwater?
Our district does incredible charity work and supports our community through a variety of programs and initiatives, so it is always enjoyable when we rally behind those causes. Also, the Indian Bowl!
5. Tell us about one of your favorite projects/units of study and why you enjoy sharing this with your students.
One of my favorite topics to cover is the American Revolutionary period because it is intriguing, exciting, and also a great way to incorporate local history. Along with that, we listen to a lot of Hamilton (the musical) and that is always a crowd pleaser! What could be more interesting than a modern twist on forgotten history? It's a social studies teacher's dream!
7. If you could teach a different subject area, what would it be and why?
ELA. Today's readers are tomorrow's leaders!
8. When you were in high school, what did you want to be when you "grew up?"
NFL Quarterback
History teacher
Lawyer
10. What would your students be surprised to know about you?
That I love to play guitar, ukulele and do my best Eddie Vedder impression.
11. What do you like to do in your free time?
I like to watch sports, hang out with friends and family, read, travel with my incredible wife Ashley, and hang out with our puppy, Mollie Colleen.
12. If you had a million dollars, what would you do with it?
First, I'd like to pay off all my debts. Second, I would use what's left to go on a grand vacation with close friends and family.
13. What are the top three items on your "bucket list?"
Landscape my backyard
Travel to Italy with Ashley
Win a Section II football title
14. What are you currently reading/listening to/watching?
Book(s)- The World As It Is by Ben Rhodes + Football for a Buck by Jeff Pearlman
Podcast- Wait Wait… Don't Tell Me! NPR
Music- Death Cab for Cutie – "Thank You for Today"
TV- The Good Place on NBC
15. Favorite sports teams?
Green Bay Packers, Syracuse Orange, Los Angeles Angels