Throughout the year, the Eye on Stillwater series highlights those who help our students reach their full potential. It is a chance for the Stillwater community to get to know our teachers, administrators, and staff on a more personal level.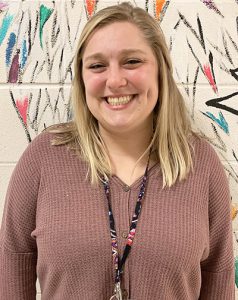 Adele Reilly was appointed as the new middle school/high school nurse in the fall and started in the district in November. Before coming to Stillwater, Ms. Reilly was a patient care technician at St. Peter's Hospital. Learn more about her below! Welcome to Stillwater, Ms. Reilly!
Learn More
Why are you excited about working in the Stillwater Central District?
I am excited to work in the Stillwater Central School District because I have heard so many great things about it. I have friends and family that went to Stillwater and am excited to join the community!
Why did you want to be a nurse?
I've always wanted to be a nurse.  I wanted to be a nurse because I enjoy caring for people and getting to them and their stories.  I'm a people person! 
What is the most rewarding part of your job?
The most rewarding part of my job is being able to listen to students when they are having a tough day.
What is the most unusual job you've ever had?
Unfortunately, the jobs I have had are pretty normal.  I have worked at a farmer's market, a daycare, and I've also been a nanny.  Along with that, I worked at the hospital throughout nursing school. 
What is something people would be surprised to know about you?
People would be surprised to know that I'm really a homebody.  I love to be at home reading a book, crocheting, or playing with my dog.
What do you like to do in your free time?
In my free time I love to spend time with my family, friends, and dogs.  
What are the top three items on your "bucket list?"
The top three items on my bucket list are
To travel. I want to go to Nashville, Ireland and Italy.

I would love to get my master's in nursing education. 

I'd like to rescue another dog..or two!
What is your favorite part about your job?
My favorite part about my job is getting to know everybody within the school district.