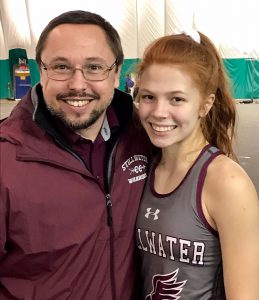 Junior Paige Brinsko placed third in the pole vault at the Section 2 state qualifier meet on Sunday, Feb. 24. Her finish earned her a spot in the New York State Indoor Track & Field Championship meet on March 1 & 2 on Staten Island.
Paige currently holds the Stillwater pole vault record at 10'0″ and has become only the second female and third athlete to represent Stillwater at the indoor state meet.
This will be Paige's third states run, however it's her first for track and field. Paige was a member of the Stillwater girls soccer state teams in 2017 and 2018.
Congratulations and good luck, Paige!