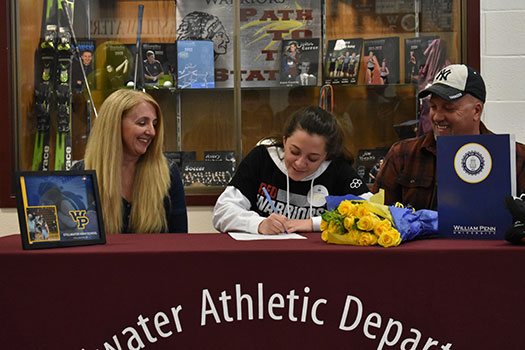 Stillwater senior Alexis (Lexi) LaFountain signed a letter of intent with William Penn University in Oskaloosa, Iowa, as a D1 wrestler at an April 26, 2022, ceremony in the Lilac gym lobby. She was joined by her parents, Laura and Steve, and her coaches, including Coach Walter West and Athletic Director Mike Kinney, who spoke at the ceremony.
Lexi has had an impressive high school wrestling career, finishing this season 17 and 5 in the 102-lb. weight class, and has inspired other student-athletes. Lexi has not yet declared a college major, but she is interested in physical education and training. She is Stillwater's first D1 wrestler.
In announcing the signing, Athletic Director Kinney said, "It's an amazing accomplishment for an athlete at a smaller school to have an opportunity to compete at a Division 1 wrestling program. William Penn University competes in the Heart of America Athletic Conference. Congratulations Lexi!"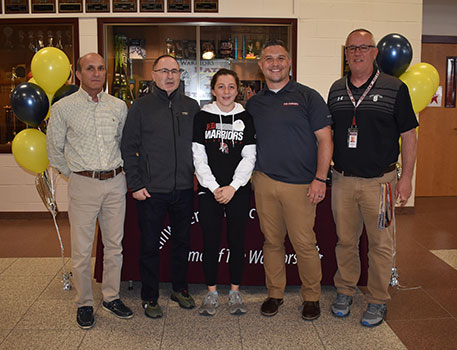 Lexi with her coaches at the signing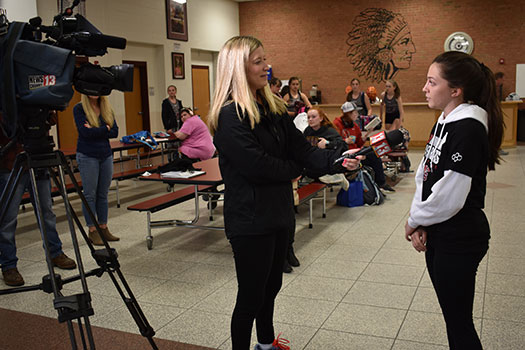 Lexi's signing ceremony was covered by several local media, including The Express, Daily Gazette and WNYT-13's Ashley Miller, pictured here.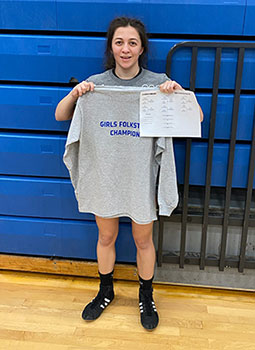 On Jan. 23, 2022, Coxsackie-Athens H.S. hosted the first-ever all girls sanctioned wrestling tournament in Section 2 history. Lexi went 3-0, including two pins and a 5-4 decision in her final match, claiming the title at 102 pounds. She improved her season record to 14-2 at the tourney.
Media coverage of the signing:
WNYT-TV 13:
https://wnyt.com/sports/lexi-lafountain-signs-letter-of-intent-to-wrestle-at-d1-william-penn/6457221/
Troy Record:
FROM CURBY TO IOWA: Lexi LaFountain signs NLI to wrestle at William Penn University
The Saratogian:
IOWA BOUND: Lexi LaFountain signs NLI to wrestle at William Penn University