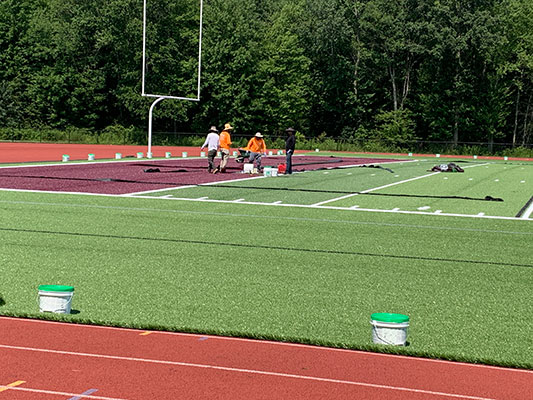 The district would like to remind the school community that for everyone's safety, the Stillwater track and turf field remain closed to the public as these areas are part of an active construction site.
Work is progressing well on the repair and replacement of the turf field and track surfaces. The track and turf field surfaces had reached the end of their useful life and were showing signs of wear and tear, including peeling, crumbling, cracking and separation, and were posing safety concerns.
The district thanks the community for their continued patience and support.
The work is being completed as part of a capital repair project approved by the district's voters on March 24, with no tax increase, to provide a safer environment for students and community members and to prepare the track, field and school facilities for the fall 2021 athletics season.
In the photos:
In the photo at the top of the page and below, workers replace the turf field surface during a sunny July day. The photo at bottom shows the turf field earlier this summer, after removal of the old surface.