In August, 2021, Stillwater alumna Aimee Flint began working as a paralegal/legal assistant with Woods Oviatt Gilman, LLP, in Rochester, NY., a large law firm that also has offices in Buffalo, NY, and Phoenix, AZ. She accepted the position after graduating from Nazareth College, also in Rochester, after just three years, with a bachelor's degree in political science and minors in American studies and data analytics. And Aimee might have graduated college even sooner, but had to complete just one more course for one of her minors.
By the time she graduated from Stillwater High School in June, 2018, Aimee had earned 42 Advanced Placement (A.P.) and college credits, all of which were accepted by Nazareth College. She said that earning those credits in high school was not only manageable in terms of time and effort, but recommends that "for any student,  even if you are on the edge about going to college, it's worth the price to get it done.
"You have to take prerequisite courses at any college, so why not get them out of the way at high school," Aimee added. "It was the best decision I made. It saved me time in the courses as well. For example, if I had to take biology at college, I would have had a 90-minute class twice a week, plus a three-hour lab each week. And a lot of prerequisites are 8 a.m. classes in college."
At Stillwater, Aimee found that taking A.P. and college-in-the-high-school classes didn't stop her from participating in activities, but did stem any boredom she otherwise might have experienced. She played softball for three years, basketball for two years and ran track for a year, and as a senior, she served as vice president of her class.
"I wasn't a perfect student or one of the top graduates in my class, and sometimes it was a struggle to get all of the work done, but even if you get a B or a C in a class, a college will accept the credits, and the classes won't impact your college G.P.A.," Aimee said. "At the end of the day, you have to take the classes anyway, and it doesn't matter where you earn the credits, so just take them in high school."
Aimee enjoys working in real estate law, finding her job to be "really cool and a great experience." She plans to attend law school in the future.
Aimee's parents are justly proud of her success in college and career and pleased with her Stillwater education. Her father, Doug Flint, said, "She had lots of opportunities to excel at Stillwater."
Information about Stillwater's extensive A.P. and college-in-the-high-school offerings is available from the high school counseling office and on the high school program of studies webpage.

Aimee with her parents at her 2021 Nazareth College graduation.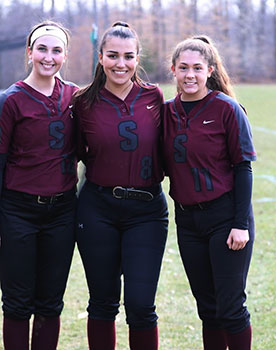 Aimee as a Stillwater H.S. student
[This article was originally published in the Stillwater district newsletter, fall 2021 edition.]