Stillwater residents approved a proposed $28,544,605 budget for the 2022-23 school year by a vote of 359 to 113 on May 17, 2022.
They also elected William Callanan (359 votes), Amanda Cocozzo (329 votes) and Robert McCoy (249 votes) to the Board of Education for three-year terms to run from July 1, 2022, to June 30, 2025. Candidate Valerie Masterson received 220 votes and candidate Alaine Wood received 160 votes.
The 2022-23 budget will decrease spending, preserve existing programs and services, and includes a tax levy increase that is below the state-mandated cap. Spending will decrease by -0.60%, or -$173,014, from the current-year budget, as a result of projected faculty and staff retirements, a slight decrease in debt service payments and removal of an appropriation for construction of a new concession stand that is already underway.
The budget includes the purchase of three new school buses, salary increases for faculty and staff, increases in employee benefit costs and funding for debt service payments. The projected tax levy—the total amount of money a school district can raise through property taxes—will increase by 2.99%, which is below Stillwater's maximum allowable tax levy increase as determined by the state's tax levy "cap" formula (4.65%).
"The 2022-23 budget maintains programs and services in our schools while remaining fiscally responsible to district residents," Superintendent Patricia Morris said. "Our priority remains to provide high quality programs for our students and innovative professional development opportunities for our staff."
Stillwater Public Library proposition approved, trustees elected
District residents approved by a vote of 302 to 169  a proposed $320,298 budget for the Stillwater Public Library, separate and apart from the school district budget, to fund the operating budget of the library. The Stillwater Public Library has the same service boundary as the school district, however the library is not governed by the district. Voters also elected Tom Boucher, (324 votes), Sharon Culliton (265 votes) and Christine Zakrzewski (264 votes) to the public library's board of trustees for three-year terms running from July 1, 2022 to June  30, 2025.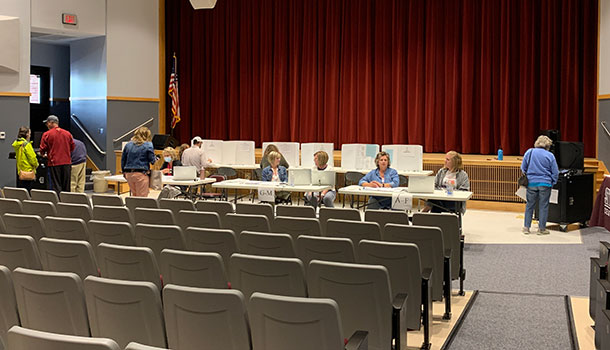 Voters casting their ballots in the Stillwater auditorium on May 17.
2022-23 Budget Documents