Welcome to our College, Careers & the Future: Explore! webpage.  Here you'll find activities and information to help you explore opportunities and options. Bookmark this page and check back for updates throughout the school year.
---
Articles, events & information:
Oct. 18, 2022:  Students tour, experience and explore construction-related opportunities
Career and educational pathways are nearly limitless in the construction field. From design and architecture to the skilled trades, to management and administration, 9th and 10th grade students from Stillwater and other area high schools explored and experienced construction-related career opportunities on-site at new homes built by John Witt Construction Inc. They learned about what is involved in the building of each floor of a home under construction and toured a finished home.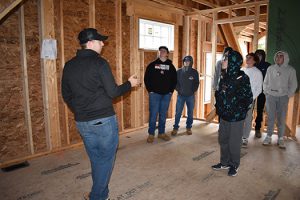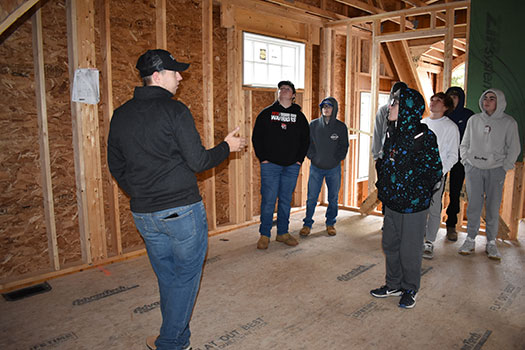 Oct. 8, 2022: Shed Build Event showcases skills, opportunities in the trades
New homes were not the only things showcased for the public this weekend: a Stillwater senior Madalyn (Maddy) Byrnes and High School Principal Carolyn Manzella spotlighted opportunities for women in the trades by participating in a Saratoga Showcase of Homes Shed Building event on Oct. 8. Team Stillwater built an awesome four-by-eight-foot shed, and Maddy was quoted by Spectrum News 1, which covered the event along with several media outlets. Click the title above to read the full article and see media coverage.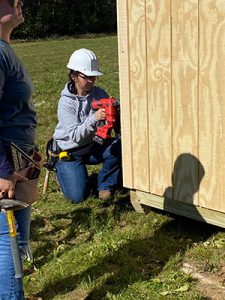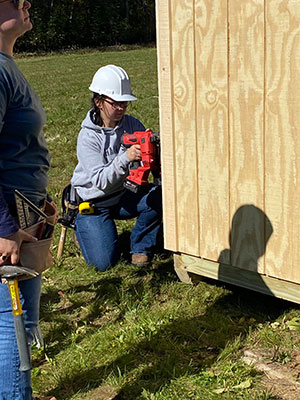 Sept. 22, 2022: Our Fall College Caravan brought representatives of 18 colleges, universities and schools to our middle school cafeteria. Students were able to explore, learn and ask lots of questions.
Aug. 26, 2022: Touch A Truck Event – Students, families and visitors of all ages explored career, training and volunteer opportunities at Stillwater's inaugural Touch A Truck event. Visit our photo album on Facebook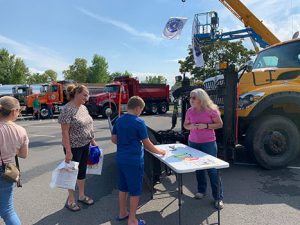 Apr. 28, 2022:  Do it for yourself – gender is no barrier
Why pursue a career that traditionally employs more individuals of a different gender? For female Stillwater students preparing for male-dominated careers at the WSWHE BOCES F. Donald Myers Education Center in Saratoga Springs, the answer is simple: To follow your passion.
Mar. 21, 2022:  Women in Trades panelists love their jobs, speak of opportunity, inspire others
Five female tradespeople and a local state Assemblywoman were unanimous in their message to attendees of Stillwater's Women in Trades event: the opportunities for rewarding, enjoyable careers for young women today are unlimited.